Opinion: Some thoughts on Jack Munro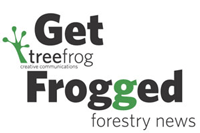 Some thoughts on Jack Munro
Written by: Tom Tevlin, www.TreeFrogCreative.ca, Nov.18 2013
It's indisputable that Jack Munro, a giant of BC politics, improved the lives of a great many Canadians. It's even fair to say he saved some lives as well; Munro's commitment to logger safety is as important an achievement as any other of his collective bargaining accomplishments.
But what's less discussed is the key role he played at the Forest Alliance of BC where he was its high-profile and influential Chair through the 1990s, as valley-by-valley land-use disputes spread across the province like wildfire, making headlines here and in BC's international markets.
From the perspective of his young Forest Alliance team, Munro bore little resemblance to his bombastic public persona. He was protective of us, generous with his time, his counsel and his praise, and always ready to share stories of past strikes, lockouts, campaigns and the broader lessons learned. Each of us was amazed at the soft heart of this legendary street fighter.
That's why we staffers, after having lots of opportunity to offer him our advice, would accept his decisions and then follow him anywhere. He was the necessary ingredient in making the Forest Alliance a credible voice here and abroad during the era of the infamous 'forestry wars,' and he was, to use the hackneyed phrase, the guy you wanted in the fox hole with you.
Populated by a group of 30 high-profile British Columbians who were used to making policy decisions and setting an organization's agenda, the Forest Alliance 'citizens board' meetings were sometimes events to behold. Munro's rhetorical abilities were mesmerizing.
When a dispute came up at a Citizens Board session, and an experienced board member cited meeting procedure, Jack would wryly remind the board member of the process:
"Don't talk to me about Roberts Rules," he'd say with a smile. "Around here we operate according to Munro's Rules. And there's only one, so it's pretty simple: I make the rules."
The directors quickly learned an important aspect of management, Munro-style: They would have to gain their influence with him not through citing procedure around a large meeting table, but through mixing it up in smaller discussions before the meeting ever took place.
That's because people were aware that while Jack had limitless time for "a good BS session" around his office desk, he was not a great fan of long get-togethers. "Those people can take a two-hour meeting, and if they work like hell, they can cram it into five hours," he'd say after an especially long session.
If one director in particular dominated the floor of the meeting, Jack would report back to staff afterwards: "That so-and-so was vaccinated with a goddamn phonograph needle." It was always followed by Munro's infectious, body-shaking laugh.
Great punch-lines aside, Munro was a great strategist and an astute observer of people – those both with and without power. Whether around a table of fellow labour leaders, or forest industry CEOs, or folks in a restaurant in Williams Lake or Ladysmith, he had an uncanny way of connecting, changing their views and influencing their actions.
He engendered strong loyalty among his board, his staff and his membership, and as a result, his leadership on the forest and land-use file was remarkable, as was easily seen through public opinion polling through the decade, where support for the forest industry doubled over his tenure as Chair.
In discussions in Victoria, or with Federal officials in Ottawa or in our forestry markets in Europe or the US, Jack was a force to be reckoned with — especially among Canadian diplomats whom he felt needed to do more to fend off a possible product boycott.
When a government official made a commitment that Munro felt wasn't genuine, he'd usually respond: "I might have been born at night, but not LAST night." That was the signal for the official to ante up; on the discussion would go until Jack felt the official's commitment would lead to action.
That the industry would entrust Munro with the job to lead a well-funded organization to engage in the environmental debates of the day was a credit to those CEOs. But for the young Forest Alliance staff, working with Jack was very simply the experience of a lifetime.
Tom Tevlin held a number of positions at the Alliance, eventually becoming President. Today he's President & CEO of Greenspirit Strategies Ltd., where another Forest Alliance staffer, Trevor Figueiredo is his business partner.